With the school year in-full swing, you'll be hearing some new voices on 88.9 in the morning, on your way to work, and while you're winding down for the night. To get to know the students leading you through your work week and into the weekend, we've interviewed three of our newest student hosts. From questions about their favorite music, to what made them want to host on 88.9, we're bringing you all the details about the new voices on our airwaves!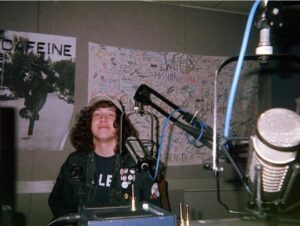 James Ammirato
Wednesday nights, 6-10 pm
I was born in Brighton Mass, but I grew up in Newton MA. I'm a Junior Writing, Literature and Publishing major here at Emerson.
How long have you worked here? What's the best part of being on air? 
This will be my third year! My favorite part of being on-air is probably just listening to music. The whole job is just sitting here listening to music, which is my favorite thing to do anyway. Having people hear you talk, that's more than ten people, is pretty cool. It's nice to think that this could be a career if I really wanted it to be. I've had people hear me say that I'm on WERS, and they'll say, "what's your name," and when I tell them they're like, "oh, I've heard you!" That's always cool. Even though you don't really get seen, people can still recognize you and appreciate what you do.
Favorite songs we play on air?
Definitely "Hounds of Love" by Kate Bush. Pretty much any Radiohead song, we play a decent amount of them. "There, There," is a good one. Other than that, "Song 2" by Blur, "Cherub Rock" by The Smashing Pumpkins, and "Wicked Game" Chris Isaac. That's just a few.
What made you fall in love with music? 
It's not something that I can really put into words. When I first started getting into my own music that I was discovering for myself, that's when I was like 11 or 12. I just loved being able to be nerdy about something that could also be cool, and have such a cultural phenomenon behind it. I'm also attracted to the idea that there's an infinite amount of it. You can never run out of enough music to listen to. It's really refreshing when you're obsessed with finding new stuff, because there's always going to be new stuff you find, whether it's current or from like 50 years ago. It really never gets old, especially for me, who listens to every genre. I get bored with one artist really quickly. It's nice to be able to switch gears and listen to hip hop, electronic, shoe gaze, metal, punk-all of it.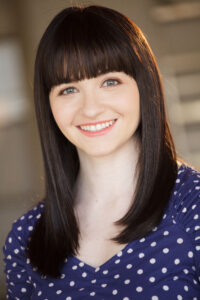 Brenna Epstein
Standing Room Only (SRO) Sundays, 12-2pm
I'm a 21 year old BFA Acting major and I'm from Los Angeles, California! I've been acting ever since I could talk, and I knew from a very young age that I wanted to be an actor when I grew up. When I'm not acting, I also love teaching at my summer camp and blogging about my favorite music artists, from The Beatles to K-Pop.
How long have you worked here? What's the best part of being on air?
I started working at WERS last year, first in the office and then as an alternate for SRO. For me, the best part of being on air is getting to play the music I adore to people who love it as much as I do. I've gotten a couple calls from listeners while hosting just to tell me that I'm doing a great job, which never fails to put a smile on my face. My goal is to make as many people smile as possible, no matter where or how they're listening to WERS.
Favorite songs we play on air?
Since I primarily host SRO, I think I'm pretty biased when I say my favorite songs are the showtunes! However, I also really do like the blend of songs on Triple A because it mixes both new and older sounds. I'm a huge fan of all genres of music, so I'm not that picky when it comes to the songs that WERS plays.
What made you fall in love with music?
I started doing musical theatre when I was very young, and ever since then, music has just kind of stuck with me. I'm just so fascinated with all the different musicals that exist in the world today, and there are still so many that I have never fully listened to before, which is crazy to think about since I know quite a lot of musicals. I'm not just in love with musicals, though. When I was younger, my dad put on different CDs in his car, from the Beach Boys to Elvis, and I consider him to be one of the reasons why I love the music I love today.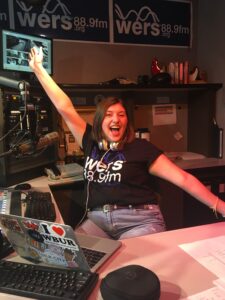 Molli Derosa 
Fridays, 10-2pm
I'm from Connecticut, about 20 minutes outside of Hartford. I'm a journalism major here at Emerson and I love to sing, spend time looking for new coffee shops, explore the city of Boston, and go to concerts in the area! You'll probably notice me dancing along the sidewalk right outside of campus.
How long have you worked here? What's the best part of being on air? 
I've worked at WERS for a little over a year now, and I immediately fell in love with it when I started. The opportunity to connect with listeners on a personal level has been incredible. The team of passionate music-lovers is a community that I am always excited to come back to every week during my shift. It really feels like a family here.
Favorite songs we play on air?
I'm a huge fan of anything and everything Maggie Rogers (Light On and Burning are my personal favorites.) Letting Go by Wild Nothing and The Joke by Brandi Carlile always make me feel some type of way! The music we play here has never failed me and I'm constantly making new discoveries from our station myself!
What made you fall in love with music? 
I've been passionate about music for as long as I remember… I started singing in 3rd grade and have fond memories of jamming to country music in the car with my mom at a young age. I've been expressing myself through music ever since then, and have since evolved my library and tastes. I'm part of an acapella group here at Emerson, and the feeling I get being able to sing with such a talented group is inexplicable. Music has become a creative outlet for me and has manifested itself in different parts of my life, one of which being my time in the studio at WERS! I'm beyond grateful to be connected with this sweet studio on Tremont Street.