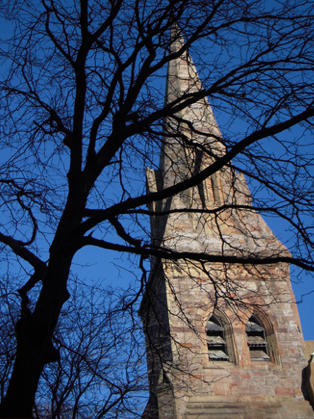 Sundays 11 AM to Noon
For over 30 years, WERS has broadcast the services of the First Church in Boston Unitarian Universalist. The First Church in Boston Unitarian Universalist is located in Boston's Back Bay at 66 Marlborough St. They can be reached at 617-267-6730 or on the web at www.firstchurchboston.org.
FROM THE CHURCH WEBSITE:
First Church is a paradox, as it stands at the corner of Berkeley and Marlborough in Boston's Back Bay.

Yes, we are the oldest church in Boston, established in 1630. Yet after the great church fire of 1968, we built the newest and most innovative church structure in Boston in response. In this sense, we are a living symbol of Unitarian Universalism - sensitive to the past, but not bound by that past into narrow and lifeless creeds. We respect tradition, but we seek religious truth that reveals itself in the future, not the past.

We are a vibrant, vital urban church, seeking to meet the needs of people today, who might be a little suspicious of organized religion, but still feel a spiritual longing and a need to connect with others who feel the same way. We wish to reach individuals and families wanting a faith that is alive and open to all world religions. We do not fear questions.

We are a congregation that wants to be the friendliest church in Boston, warm and inclusive-yet we take seriously the need to challenge our members with the issues that confront us all, both personal and for our whole society. And we do not bemoan these challenges, but work together to answer the problems of our time with hope and inspiration. We are determined to make a difference.